Flutterby offers unique Butterfly Releases to make any special occasion unforgettable!
FOR USDA REGULATIONS ABOUT BUTTERFLY RELEASES, click here. Please Note: We raise Eastern Monarchs, but they canNOT be shipped to the west side of the Continental Divide. We raise other species that can be shipped to those states.This Chart explains government permissions on shipping live butterflies.
Pricing: At only $84.00 per dozen, the cost is minimal - the impact is maximum. If you want only 1 butterfly, that's OK with us. Butterflies are $10 each when ordering less than a dozen, plus shipping. We have no minimum order. The following package prices are available:
• 50 butterflies: $340.00
• 100 butterflies: $650.00
For any get-together, choose an environmentally friendly alternative to confetti, rice and balloons — and something that will last in your guests' memories for a lifetime! With Flutterby Gardens, the only limits are your imagination for events such as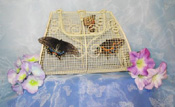 Weddings
Birthdays
Bar Mitzvah / Bat Mitzvah
Anniversaries

Corporate Events
Funerals
School Promotions
Fund Raisers
Products and Regular Services - We offer special-event releases, tabletop displays, and personal mementos. You cans end each guest home with their very own Flutterby Baby favor! Or, have an 'interactive release', where each guest is provided with a favor-sized basket and participates in the release at a predetermined moment.
Butterfly Delivery Schedule - Your butterflies will be scheduled to arrive the day of their release, unless otherwise requested. Minimal care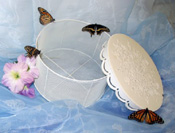 is required prior to release. Complete instructions are included for care, handling, staging and releasing are included, and we are just a phone call (941-807-2416) or email away for answers to your last minute questions.
Please visit our Butterfly Shop for beautiful gift items you can purchase online to add a unique ambiance to your special affair. All items are shipped directly and safely to you.
Color your world with the beauty and magic of butterflies!